Cirrus Aircraft today revealed the Special Edition Vision Jet (SF50) to commemorate 500 deliveries of the world's first single-engine personal jet. The Vision Jet has been the best-selling jet for five years and has become a proven asset for business and personal travel, widely utilized by Part 91 and 135 operators. With inflight Wi-Fi and the Cirrus IQ mobile app, the G2+ Vision Jet is now more connected than ever enabling streamlined business travel.
"With the delivery of the 500th Vision Jet, Cirrus Aircraft celebrates the marketplace success of a category-defining aircraft," said Zean Nielsen, Chief Executive Officer of Cirrus Aircraft. "The Vision Jet is the only jet that features advanced innovations like the Cirrus Airframe Parachute System (CAPS), Safe Return Autoland, Wi-Fi, Cirrus IQ and Auto Radar along with a suite of other safety, comfort and convenience features. Cirrus Aircraft makes aviation more accessible with the G2+ Vision Jet's best-in-class performance and low operating cost."
The 500th Vision Jet delivery is confirmation of the SF50's breakthrough success supported by its expanding ecosystem of concierge solutions which make ownership straightforward and offer inflight connectivity, aircraft management, progressive maintenance and a global support network.
Efficient and Sustainable Platform for Business Aviation Operators
The Vision Jet has the capabilities and comforts that can achieve many of the missions that larger corporate jets do at significantly smaller operating costs making it the ideal supplement to every corporate fleet. The Vision Jet adds flexibility for short regional and longer cross-country missions with lower fuel burn due to its innovative single-engine and V-tail design. All Vision Jets can be powered by SAF fuel as well. According to Conklin & De Decker, the Vision Jet has the lowest CO2 emissions rate compared to all general and business aviation jets.
Concierge Owner and Operator Support
Cirrus Aircraft offers an entire ecosystem of owner support services for Vision Jet owners throughout their lifetime of aircraft ownership. For example, JetStream simplifies ownership by setting a predictable cost of ownership and is inclusive of a range of services from recurrent training to subscriptions (Jeppesen Charts, Sirius XM Weather, Garmin Connext) to maintenance coverage. Cirrus Aircraft offers progressive inspections for aircraft operating over 400 hours per year which help reduce the operating cost per hour and minimize downtime compared to routine FAA 100-hour requirements.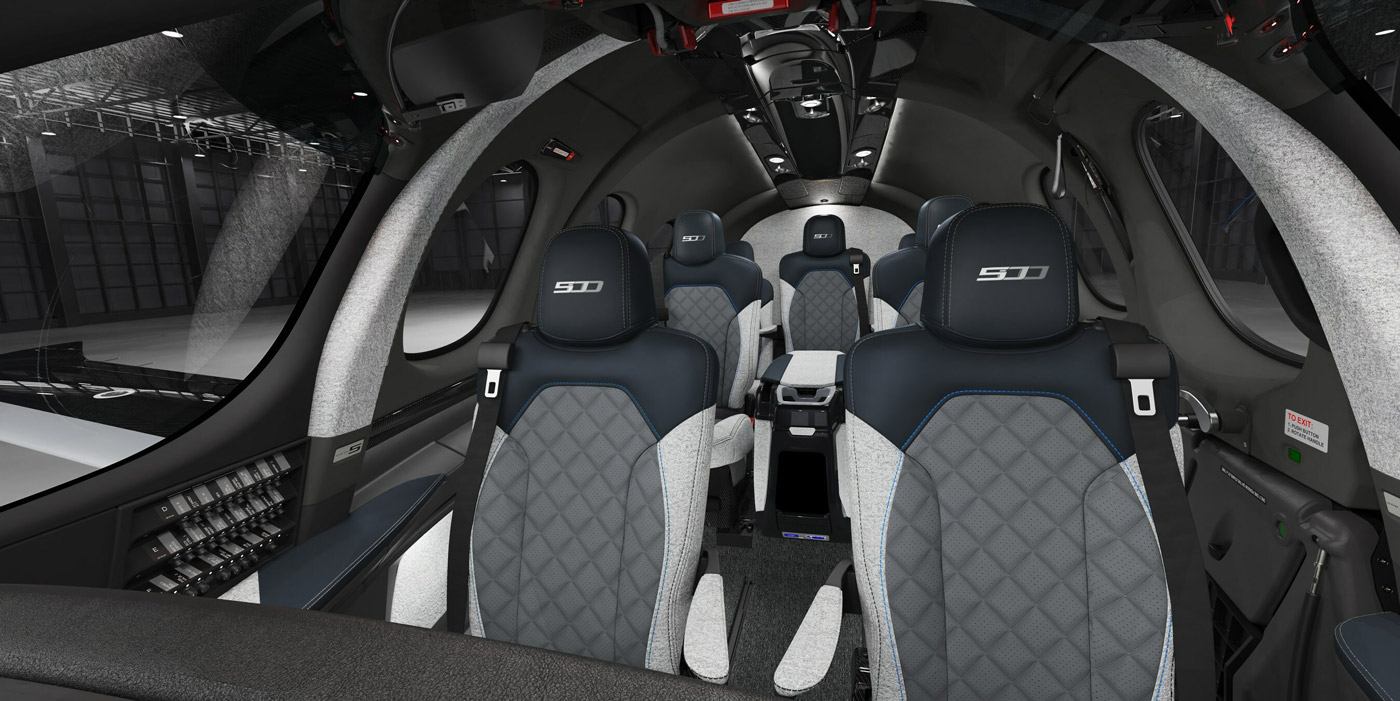 500th Limited Edition Design
Five Limited Edition Vision Jet liveries were created by Cirrus Aircraft's Xi Design team to celebrate this industry milestone which were all inspired by the jet's unique design and bold colorways. Owners chose from five exterior color options to complement the Obsidian Black and Vision Blue paint. Energetic graphic lines accentuate the movement and motion of the design on the exterior. All commemorative aircraft are embellished with 500th Limited Edition branding throughout.
The interior features blues, grays and carbon fiber. The crew seats are heathered gray Alcantara capped by a leather shoulder and headrest featuring an embroidered 500th edition emblem. The center of the seat is a cascade of diamond-patterned leather with stylistic perforations.