Duncan Aviation is excited to showcase this stunning Falcon 2000EX that received a complete paint and interior overhaul, 2C inspection, Gogo AVANCE L5, Airshow 500, and new AC outlets with USB charging.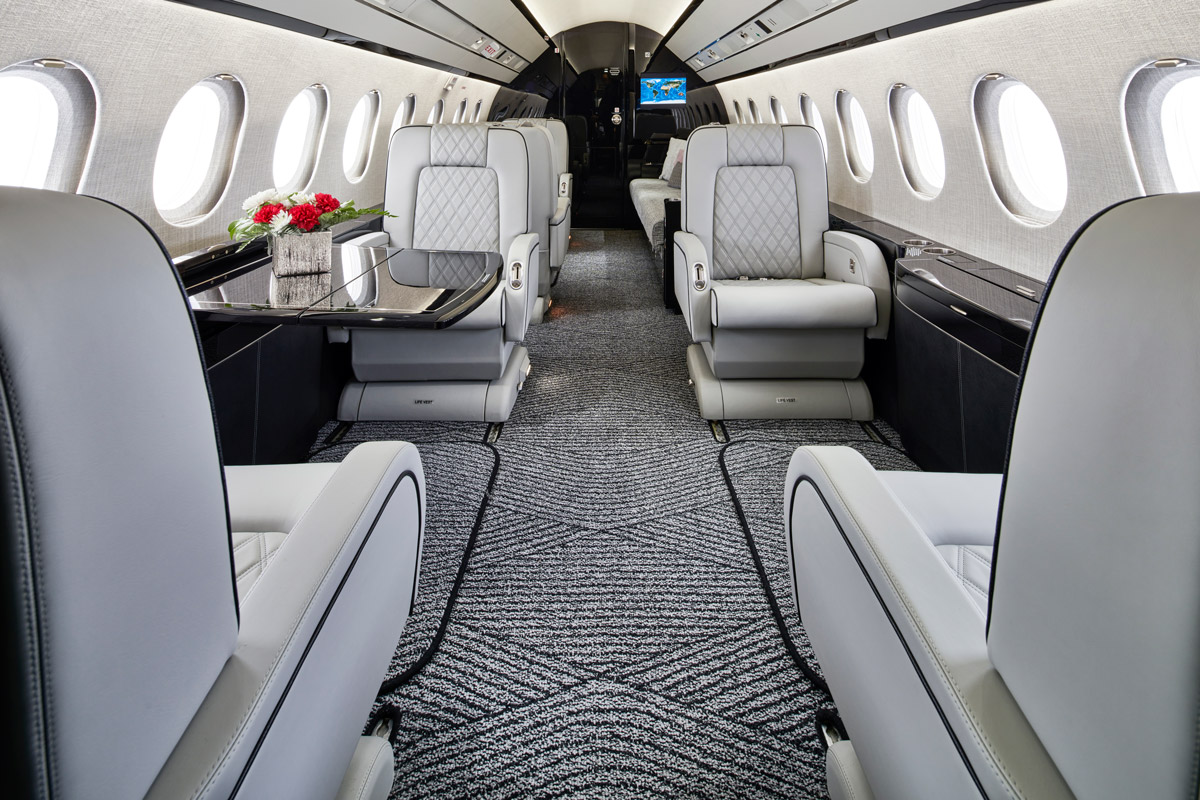 The aircraft arrived at Duncan Aviation's full-service facility in Battle Creek, Michigan, with an outdated beige interior and gold accents. The customer wanted to make the aircraft look new, modern, and updated, so Duncan Aviation Lead Designer Heather Pridemore worked closely with the owner to bring his vision to life.
"The owner really likes the heavy contrast of greys and blacks," said Pridemore. "We gave the interior a very textural and masculine look that modernized the aircraft."
The aircraft received all new materials including leather, plating, veneer, and countertops. In order to achieve a more textured look the owner desired, Duncan Aviation's Interior teams created custom quilted chairs that are highlighted with black accent piping. The lower sidewalls are covered in heavy grained, hand-tipped leather with French accent stitching. The carpet features a large geometric pattern with grey and black contrasts that bring the interior together.
The owner wanted the interior and exterior to complement each other with using the same overall colors and style.
"The owner loved the paint job we did on his Citation a few years ago and wanted to use the same color scheme," said Pridemore. "The exterior has a dark grey belly with sleek lines making the aircraft look long and fast. We added a little red to the paint for more visual interest."
The aircraft was delivered to an extremely happy and excited owner.
"This was one of my favorite jobs I've worked on," said Pridemore. "I was absolutely floored when I was able to see everything in the aircraft come together."
Duncan Aviation Completions and Modifications Sales Rep Tiffany Buschini said that the owner and management company were so thrilled with how the entire project was ran and how high the level of quality and attention to detail was with the interior and exterior, that the management company has elected to bring several additional aircraft to Duncan Aviation for similar work.
"It feels great to know we're a part of a team that takes such pride in their work," said Buschini.