Jet Aviation announced that it has partnered with FlyORO, a fuel blending services provider, to offer custom blends of Sustainable Aviation Fuel (SAF) at its Singapore Fixed Base Operation (FBO) at Seletar Airport. The tailored SAF blends use FlyORO's AlphaLite technology and is available immediately.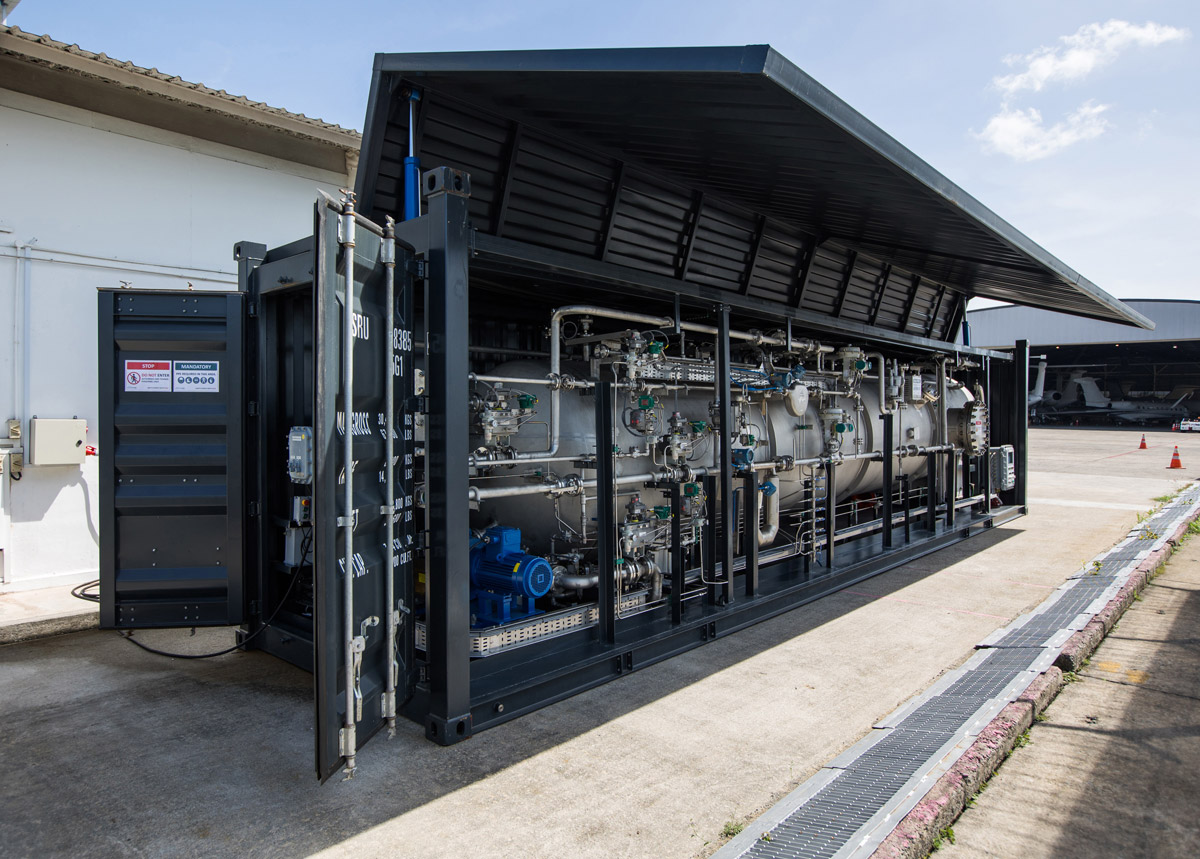 Jet Aviation launched SAF in Singapore in May 2022, at an approximate 39% blend. The partnership with FlyORO is the first of its kind to enable customers the opportunity to choose a custom percentage blend of SAF to meet their specific requirements.
"SAF is an important part of our efforts towards a more sustainable future, for the industry, and for Jet Aviation," said David Paddock, president, Jet Aviation. "Jet Aviation is committed to working in partnership with various stakeholders to drive availability, understanding, and adoption of SAF across our network, and beyond. Offering customers a customized blend of SAF that meets their specific requirements is another way to further provide a seamless, personalized service at every touch point. We are delighted to partner with FlyORO on this project and bring their innovative solution to our Seletar FBO."  
Jet Aviation is the first FBO in the world to offer AlphaLite, FlyORO's modular blending technology that can provide fast, flexible SAF blending at the highest level of precision, quality, and safety protocols.
"We are proud to launch the world's first flexible SAF blending system, in partnership with Jet Aviation in Singapore," said Jonathan Yeo, CEO, FlyORO. "Jet Aviation, as leaders in business aviation, have always been the first to lead and demonstrate their commitment to sustainability – in the region and globally. Together, we look forward to creating a more robust supply chain to further aviation's journey in the energy transition, and create innovative solutions in SAF blends, designed to be tailored to the respective sustainability requirements in business aviation."
"Singapore is a key business aviation hub in Asia Pacific, and we are proud to lead the way in making SAF blends available from our Seletar Airport facility, in partnership with FlyORO," said Faizal Khan, Jet Aviation's director of FBO operations in Singapore. "We are always looking for meaningful ways to broaden sustainable choices for our customers and we hope this next step will further grow the global SAF community and ultimately increase the number of flights operating on SAF."
In 2019, Jet Aviation was the first supplier to offer sustainable fuel via a blended fuel option at Van Nuys Airport, California. It was also the first company to bring SAF to Switzerland, in a temporary supply for the World Economic Forum 2020. In 2021 a permanent supply of SAF was introduced in Jet Aviation Amsterdam, followed by Singapore in 2022. This same year, the company signed the World Economic Forums' 2030 Ambition Statement, 'Clean Skies for Tomorrow'. Jet Aviation also makes SAF available for any customer worldwide through Book & Claim.