WINGX's weekly Business Aviation Bulletin.
Overall Comment
The war in Ukraine is spilling into the general economy and is likely to impact investment decisions as well as lifestyle budgets, which will inevitably slow the rebound we've seen in business jet travel in the last 12 months. That said, on a global level, we are still seeing business aviation activity well above the norm for pre-pandemic months of March.
Global, Ukraine and Russia
As the war in Ukraine moves into its second month, aviation activity out of Russia, Belarus and Ukraine continues to dwindle, falling a further 50% in the last 7 days. Compared to the same week in 2019, total civilian fixed wing activity in these three countries is down by 48%. Business aviation, 2.5% of total activity from the region, has fallen by two thirds in the last week compared to 2019 and by over 70% compared to March 2021. The top international destination for business jets flying out of Russia in the last week is Istanbul, 19 departures, unusually high. Dubai is also a frequent destination. Apart from Belgrade, no European city destinations show up in the top 10 global city destinations for flights out of these regions.
Business jet destinations from Russia, Belarus, Ukraine March 20-27, 2022 vs previous years

Despite the significantly deteriorated geopolitical outlook in March 2022, and the already-materialising impact on economic outlook, business jet flight activity is still setting records this month. Compared to March to-date 2019, this month's global business jet sectors are up by 23%. There is arguably some slowdown, with the last 7-day trend at "only" 19% above same week in 2019. Scheduled (passenger airline) operations continue to trend at 30% below normal. Cargo operators' activity has palpably slowed, with the last week indicating 11% drop on 2019, whereas month-to-date is still 8% above March 2019.
Scheduled, Cargo, Ad-Hoc and Charter shares of total global activity in last 7 days 2022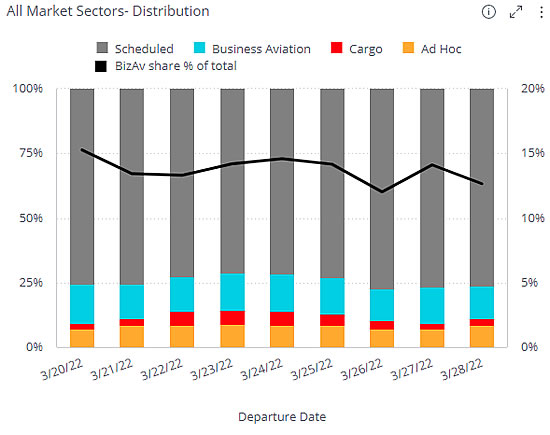 Europe
Europe is taking the brunt of the turbulence from the Ukraine crisis, and that is showing up in business jet flight trends, which have slowed to 7% growth in the last 7 days, compared to 11% growth in the month-to-date, both with respect to 2019. There is wide disparity in European country trends, with business jet demand in Russia collapsed, flight activity in France and Germany flat compared to 2019, although well up on last year. The UK has seen a very strong rebound on last year, more than doubling sectors in the comparable week this year, and well ahead of 2019. Last 7-day trends are also very strong, versus same week in 2019, in Sweden, Belgium, Netherlands, Poland, Portugal and Czech Republic. 
Business jet departures by country in March 21-28, 2022 vs previous years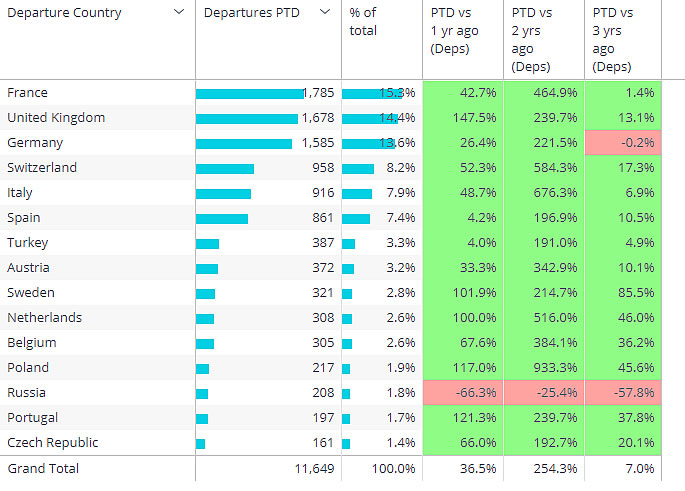 North America
In North America, the US has hosted more than 90% of business jet activity in the last 7 days, with demand soaring above pre-pandemic levels, 22.8% up on the same week in March 2019. This compares with a higher 29% growth for the month-to-date compared to 2019. Costa Rica, US Virgin Island, Puerto Rico are all getting double-digit growth in business jet arrivals compared to 3 years ago. The Turboprop segment is ailing, with prop flights in the US down by 10% in last week versus same week 2019, and down 4% for the month, with reference to 2019. Teterboro is the busiest airport in the US for business jet departures, now trending modestly above March 2019. West Palm Beach continues to smash records, departures up by 67% compared to same week in March 2019.
Business jet departures by airport in US March 21-28 2022 vs previous years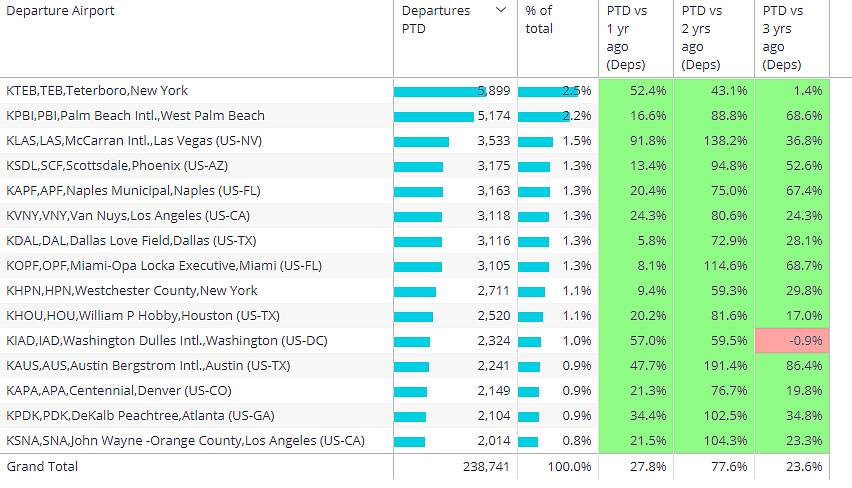 Rest of World
Outside Europe and the US, business jet demand in March is higher than ever, 24% more business jet sectors flown month-to-date compared to March 2019. Mexico and Canada are two of the largest markets but neither has caught up with pre-pandemic levels of activity, with Mexico significantly behind comparable 2019. Three countries have seen a doubling in business jet activity since pre-pandemic: Brazil, Nigeria, United Arab Emirates. China ranks as 20th busiest rest-of-world market, with fewer business jet sectors than Morocco in the last week, and a deficit of almost 50% compared to March 2019. At the airport level, the busiest rest-of-world airport for business jet activity this month is Nassau, with 1,601 arrivals, up by 33% compared to March 2019.
Business jet departures by airport in US March 1-28 2022 vs previous years