WINGX's weekly Business Aviation Bulletin.
Summary
The less-than-rosy economic outlook is clearly starting to erode the previously unstinting growth in business jet demand in the key US market; Texas, California, Florida all seeing sizeable year-on-year declines in charter activity. Europe is behind the US curve on the Covid rebound and also in peak summer season, so we'll probably not see that decline until September.
Global
In the first 17 days of July 2022, there were 254,000 business jet and turboprop flights operated worldwide, down 0.4% from last year, up 13% compared to July 2019. For business jets only, activity in week 28, ending July 17th, was up 7% compared to the previous week, 1% more than the same week in 2021. By comparison, global scheduled airline activity is up 17% compared to July last year, still 22% behind three years ago. The top 5 busiest global airlines (Southwest Airlines, United Express, American Airlines, Ryanair, Delta Airlines), have flown 265,000 sectors so far this month, 11% more than last year, 3% below 2019. Global cargo operations have slowed, at the midpoint of the month sectors are down 8% compared to last year, 2% below three years ago.
Scheduled Airline, Cargo and Business Aviation activity 1st July – 17th July 2022

North America
Business jets and turboprops have flown 5% fewer sectors so far this July compared to last July, although up 6% compared to pre-pandemic July 2019. In week 28, activity was up 11% compared to week 27, but down 3% compared to three years ago. The US bizjet market is still flying above 2019 levels, but for Part 135 and 91K flights, bizjet sectors were 7% behind week 28 last year. That is in line with the trend over the last 4 weeks. The largest and smallest cabin jets are flying more than ever, but the growth has come off the midsize cabin segments this summer. Private flight department flight hour activity indicates owners flying more than ever, and Corporate Flight Departments this month have registered a little more activity than in July 2019.
Operator types ranked by flight hours, 1st – 17th July 2022 vs previous period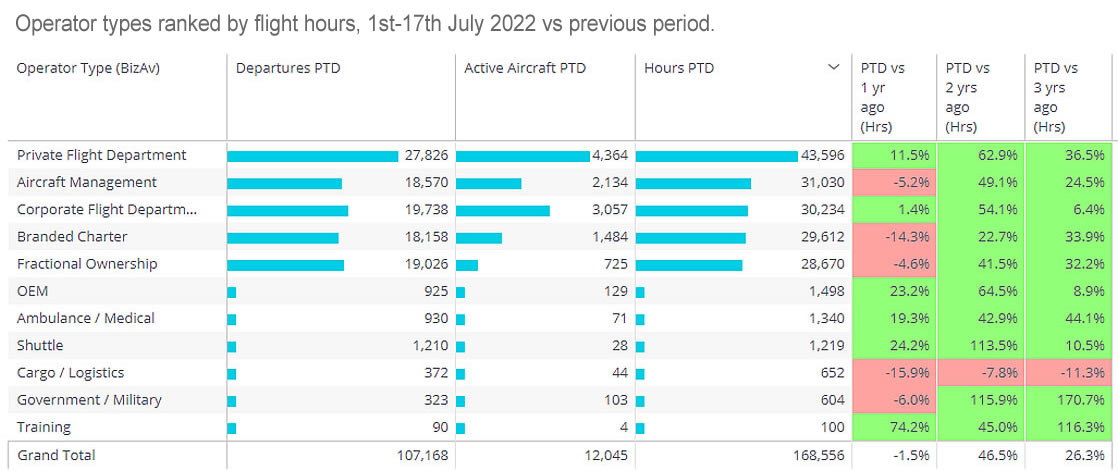 For the US branded charter operators, the best performing aircraft is the Citation Excel/XLS, taking records to a new level with a 7% YOY increase in sectors flown so far this month. The Gulfstream GV/500/550 fleet is likewise flying more than ever. But other busy charter aircraft are off the pace, with Gulfstream 400/450, Citation X, Challenger 300 and Embraer Phenom 300 considerably less busy than in July 2021. The biggest dips in YOY activity so far this month are evident in California, Texas, and Colorado. Flight demand in New Jersey has fallen back behind July 2019 levels. Compared to 2019, Florida is still out in front, 44% more flights this month, although 4% fewer than July last year. Busiest US pair this month, McCarran-John Wayne, was flat compared to last year, up 5% on 2019.
Europe
Business jet demand in Europe is in peak season, with the start of the summer holidays seeing the usual very strong demand for holiday flights. Overall, the region has seen 13% more flights in the first two and a half weeks of July this year versus last year, activity which is a remarkable 23% higher than in July 2019. Typically, the most-in-demand destinations are the Med countries, although there is an interesting contrast between France, Spain, Italy, all with much more inbound traffic than last year, and Greece, Croatia and Cyprus, getting fewer flights this year than last. All destinations are seeing many more business jet visits than in July 2019, so the variation this year is likely to reflect the differences in last year's Covid travel restrictions.
Select Leisure markets in Europe, bizjet arrivals 1st – 17th July 2022 vs previous years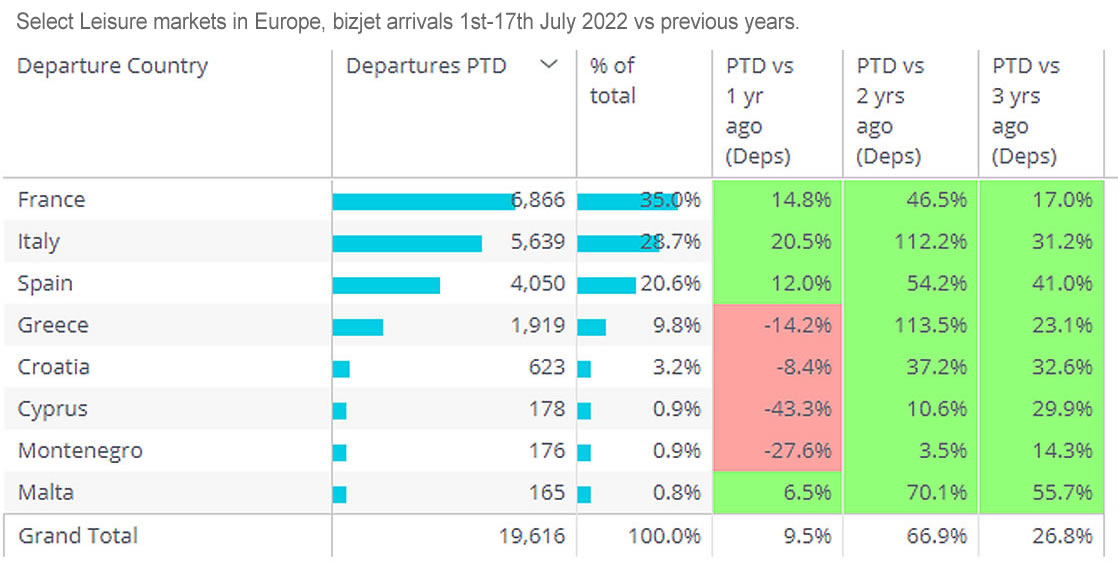 Rest of World
Outside Europe and North America, bizjet activity is up 8% compared to last year, 58% more than three years ago. Brazil is the busiest bizjet market, although bizjet flights from its busiest airport, São Paulo–Congonhas Airport, have fallen 23% below their peaks last year. The Middle East region is also seeing some slower demand this year versus last, with Dubai International getting 71% more movements this July than in July 2019, but still 15% fewer than in July last year. In contrast, Singapore's Seletar airports is seeing two and a half times the business jet activity it saw in July 2019. Business jet traffic in China is well off its post-covid rebound, flights this month 40% down on July last year, 27% off July 2019.