WINGX's weekly Business Aviation Bulletin.
Overall
September's global bizjet trends are falling into line with the summer-long delta of just under 5% compared to last year, holding 20% gains on 2019. The dominant US market is tracking 4% below last year, overall activity buoyed by Fractional Fleets working harder than ever, with Charter demand dropping off versus last year, Corporate Flight activity weakening.
Global
So far this month (1st – 18th September), there have been 179, 272 business jet sectors operated in total, 4.3% fewer than in September last year, 19.8% ahead of September 2019. All business jet segments apart from Ultra Long-Range jets are flying less than in September last year. Scheduled airline sectors have increased 16% year on year, 6% behind 2019. Cargo flight activity is trending down 8% compared to last year, down 4% versus September 2019.
Chart 1: Global business jet flights through September 2023 vs previous years

North America
Business jet sectors are down by 5.1% in the first 18 days of September compared to last year, still 18.5% up on comparable September 2019. This is closely in line with year-to-date trends. Of the total 132,000 bizjet flights originating in the US, 122,000 departed airports in the United States. This activity was down 5.5% year-on-year, up 17.5% versus 4 years ago. In Mexico and the US Virgin Islands, bizjet activity is up this year compared to last year, in contrast to most of the other countries in the region which are seeing less activity than last year. Flights within Mexico are up 14% compared to last year, whereas flights from Mexico to the US are down 11% this September versus last September.
Chart 2: North America Business Jet activity September 2023 compared to previous years.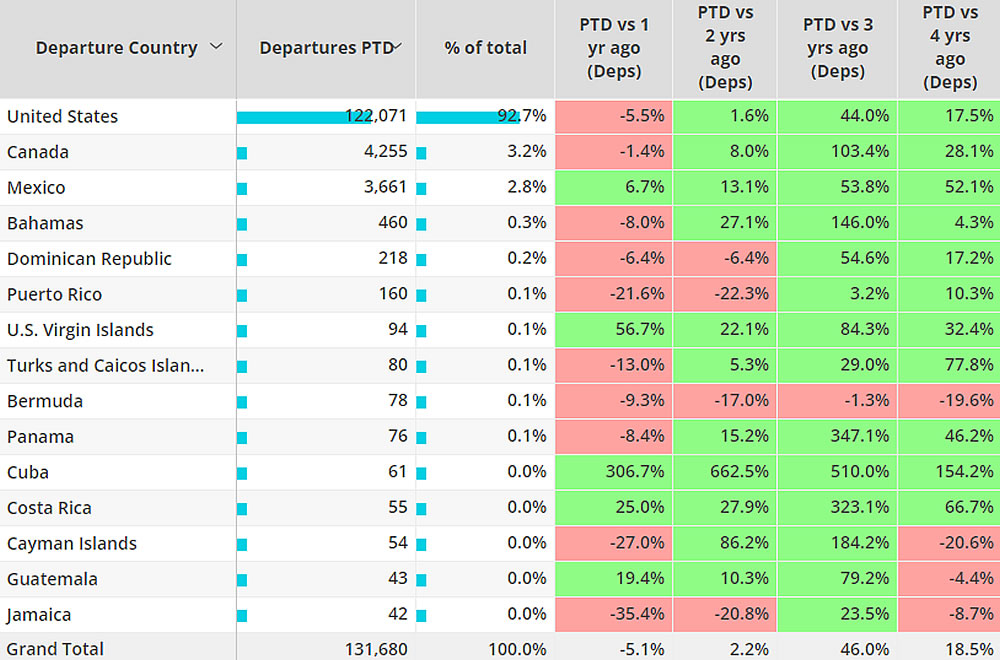 Europe
The decline in bizjet activity in September 2023 appears to be widening in Europe, with flights through 18th down by 7% compared to last year, holding up 11% compared to 2019. Farnborough airport is the only leading airport with some growth in activity compared to last year. Bizjet departures from Linate, London Luton and Biggin Hill are down at least 10% versus last year, with Olbia's bizjet visitors down by 21% year on year. Nonetheless, Ibiza, Biggin Hill and Olbia all have 30% gains on 2019, Mallorca's bizjet activity is up 47% versus 2019, with Istanbul Ataturk getting 66% more bizjet movements than in 2019. In terms of country connections, the decline in domestic bizjet flights in Germany stands out, with 13% fewer flights this September versus last year, 23% less activity than 4 years ago.
Chart 3: Leading business jet airports in Europe, September 2023 compared to previous years.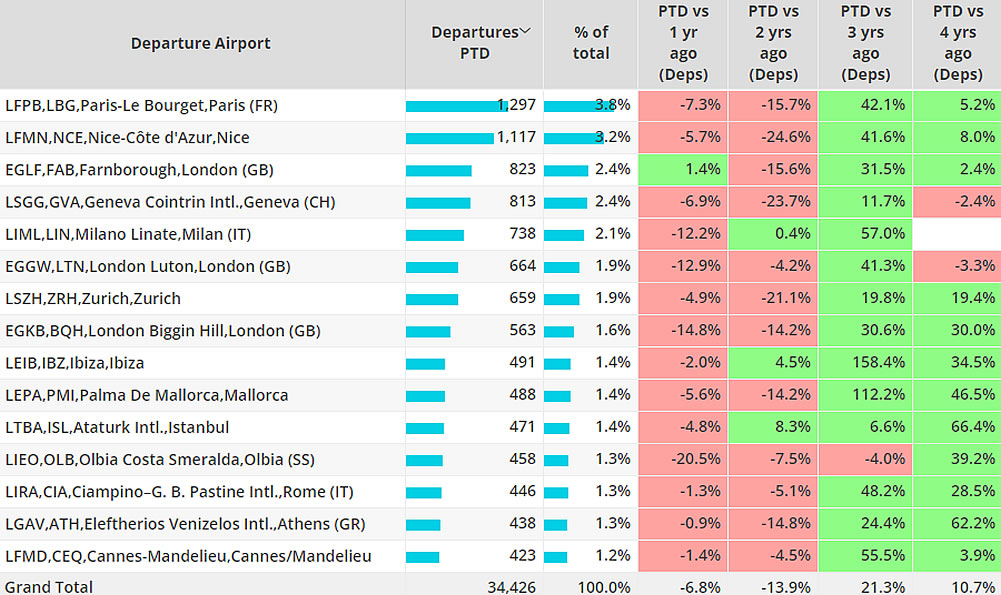 Asia
Business jet activity this month in Asia, 4,179 flights, is up 30% on September last year, up 68% compared to September 2019. 948 business jets have been active in the region, with half the activity comping from large cabin, long-range jets. Super Light and Entry Level Jet activity is well up on last year but a relatively small component of total activity. 5% of flight activity across this region is VIP Bizliner, 81 aircraft active, 21% busier than last year. The busiest airport in the region is Seletar in Singapore, with 271 bizjet departures so far in September, up 47% versus last year. Busiest bizjet airport in Mainland China is Shanghai, 74 departures, more than doubled on last year.
Chart 4: Business jet segment activity in Asia, September 2023 vs previous years

Middle East
With 3,899 bizjet sectors operated through 18th, September's activity in the Middle East is flat on last year, up 45% on four years ago. In terms of aircraft type, the Legacy 600/650 is the most popular business jet this month, with 72 aircraft operating 366 flights so far this month, up 27% on last year. The Global Express/6500 platform is the busiest long-range jet, up 10% on last year, with the Gulfstream G600/650 type flying 100 fewer flights, 30% up on September 2019. The older Gulfstream GV/500/550 fleet is seeing considerably less demand, 26% fewer flights than last year. The Airbus Corporate Jet is flying 33% less than last year, Boeing Business Jet activity is up 3% year-on-year. Rolls Royce engines are equipping 36% of bizjet flights in the region this month.
Chart 5: Business Jet aircraft types, Middle East, September 2023