WINGXТs weekly Business Aviation Bulletin.
Overall Comment
Business aviation demand is seeing a lot of variety geographically, primarily because of the contrasts in renewed restrictions around the Omicron variant. For example, flight activity in the UK and Low Countries is in reverse, but still thriving in Spain. In the US, strong overall demand is being driven by the fractional fleets, and in Florida and Texas primarily, with charter operators slowing a little, and some East Coast States seeing a big drop in demand. Regionally, business jet operations are very strong in the Middle East, and well behind in South-East Asia.
Business Jet sectors flown vs Scheduled and Cargo activity 2019 – 2021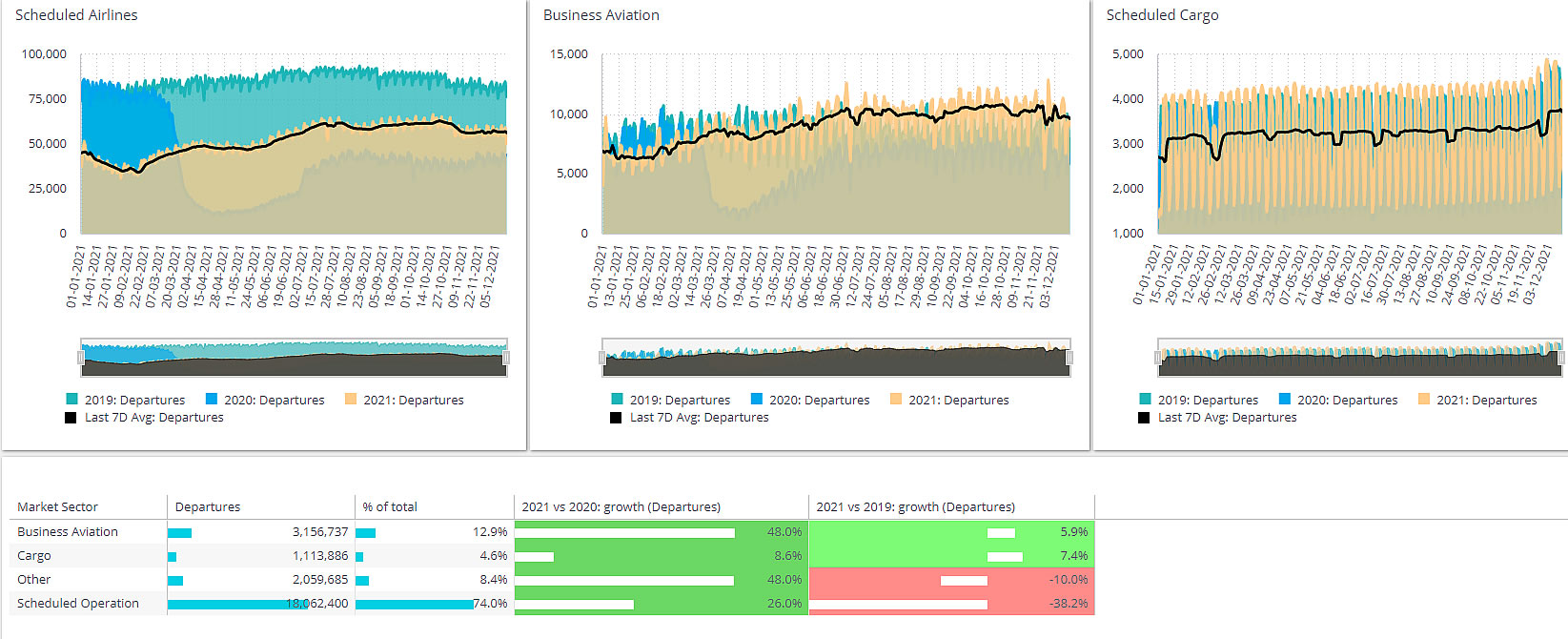 North America
More than 90% of the region's bizjet activity is in the United States, trending 9% up on 2019 year-to-date, and for December so-far, a slightly stronger +11%. Most of the flight activity is coming from Private and Corporate flight departments, flying 10% up on December 2019, with Aircraft Management Companies up by 12%, and Fractional Ownership Operators soaring at 16% more activity than December 2019. The Branded Charter fleet activity is up 7%, relatively weaker growth this month than in earlier Q4. Even so, Branded Charter operations year-to-date are up by 18% compared to 2019.
The busiest regional airport, Teterboro, is still trailing year-to-date 2019 activity by 20%, reflecting its significant exposure to international sectors and larger cabin traffic. The two stand-out airports this year are West Palm Beach and Miami-Opa Locka, both with more than 40% increase in business jet activity compared to 2019. So far this month, Teterboro is only 1% behind comparable December 2019, showing a strong recovery in international traffic, up 8% in the last 14 days, even as domestic connections with Teterboro recede by 1%. Florida is stretching its lead as the busiest US State, activity up 31% for December. Texas is also thriving in terms of business jet demand, flights up 13% vs December 2019. As in earlier periods of the pandemic, demand is starting to dry up in States where mobility restrictions are coming back, notably in New York and New Jersey.
Europe
Europe has seen the strongest resurgence of the pandemic and associated restrictions in the last 2 months, first with Delta, now with Omicron. The resulting trends are widely divergent by region, with France still seeing strong growth in business jet activity, departures up 47% on last year, up 12% on December 2019. Business jet arrivals into Spain are up 28%, with flight demand in Russia and Turkey exceeding 20% growth versus first half of December 2019. Sweden tops the charts with 40% growth in the first half of this month. Conversely, the UK, at the center of the Omicron panic, has seen business jet activity slump 13% this month vs 2019, having been up 30% last month. Austria, Belgium, Norway, Ireland, and Netherlands are similarly negatively affected this month.
Busiest European countries for outbound business jet departures in December 2021

Rest of World
Outside Europe and the US, December is proving to be a strong month for business jet activity, with sectors up by 33% compared to December last year, up 15% versus December 2019. Canada, trailing two years ago December by 9%, and China, down by 32%, are the only top 10 countries with a deficit compared to pre-pandemic. Mexico is recovering, having been deeply impacted for most of the last 18 months, a strong recovery in the last 3 months is continuing into December, business jet arrivals up 5% on December 2019. Growth vs December 2019 has exceeded 40% from India, Saudi Arabia, and flights are up more than 50% this month in Brazil and UAE. UAE business jet connections with France, Russia and Saudi Arabia are more than double where they were in December 2019
Business jet departures from the UAE in December 2021 vs 2020 and 2019