WINGX's weekly Business Aviation Bulletin.
Summary
This week's bump in year-on-year global flight activity is the first since January this year and may mark the anniversary of the turning point in the business jet activity surge last year. In Europe the notable gain was in Italy, specifically at airports in Rome. In the US, the growth was centred on Florida, bizjet activity up 22% versus same dates last year.
Global
The complete month of September ended with business jet and turboprop sectors are down 2% compared to September 2022, 18% up on four years ago. Scheduled passenger airline sectors moved 17% beyond September last year, still 6% behind 2019 levels. Global cargo operator aircraft sectors were 6% behind last year, 2% up on 2019.
Chart 1: Global fixed wing flights by sector, September 2023 (Note bizav includes turboprops).

Europe
In Week 39, ending October 1st, European business jet sectors grew 3% compared to the previous week, just 1% behind the same dates in 2022, a much smaller deficit than for September as a whole, which was 7% down on last year. Several metro areas saw strong growth this week, including Farnborough, Ibiza, Rome and Madrid. There was also a bump for France, with international sectors 22% ahead of September last year, 5% ahead of 2019. Visitors to the World Cup Rugby matches and the Ryder Cup competition have clearly boosted traffic.
For the month of September, bizjet activity decline was largely down to softer markets in the UK, Germany, Austria and Netherlands. For Germany, bizjet movements were 5% lower than in September 2019. Russia shows the largest deficit, bizjet departures down almost 60% compared to four years ago. Italy, Spain and Turkey still had very strong gains on four years ago, even if September 2023 was a little off last year's record levels.
Chart 2: Europe bizjet departure trends by country, September 2023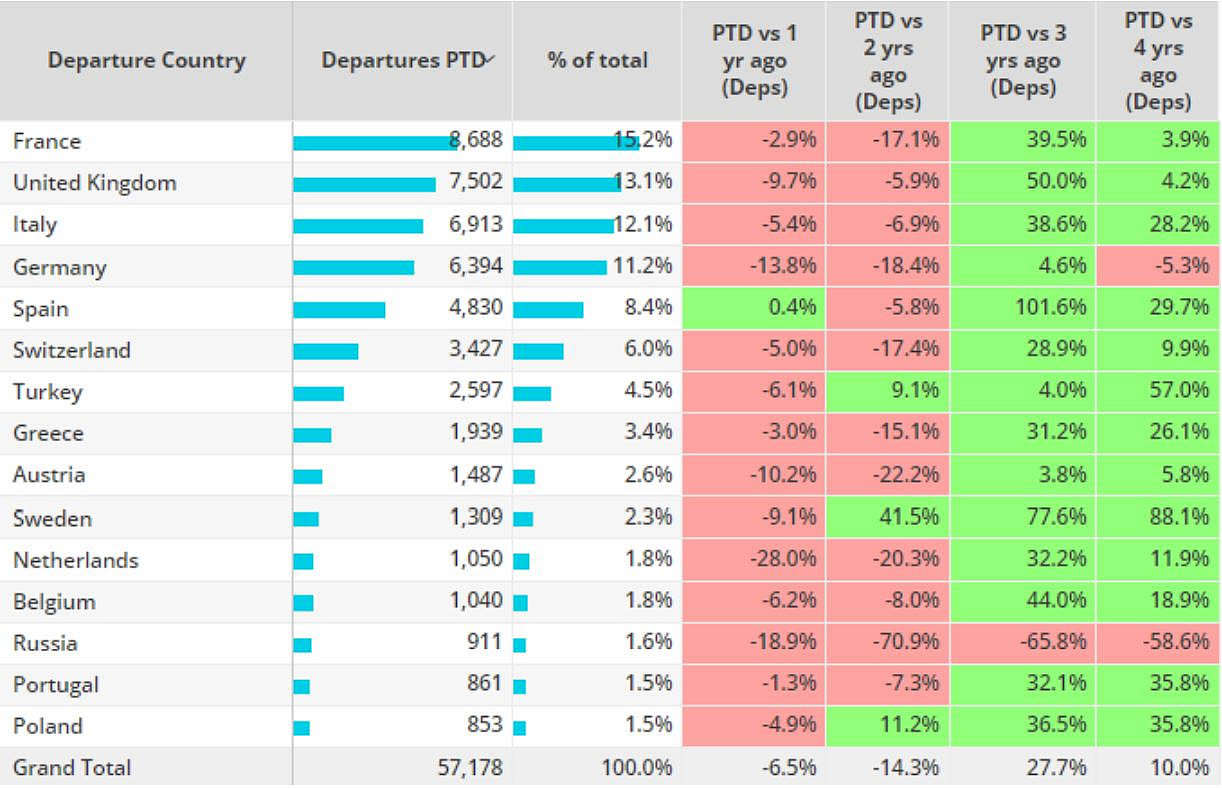 North America
In Week 39, ending October 1st, North American business jet activity was up 5% on the same dates in 2022. Florida stood out, with 22% increase in bizjet flights compared to the same dates in 2022, a big shift from the single-digit Year on Year declines we have seen over the last few months. Compared to last week, Florida bizjet traffic was up 3%. In total there were 4,734 bizjet take-offs from airports in Florida in week 39, much fewer than the 52-week high point of over 9,000, back in February this year. Other US States saw a very narrow decline, California flat year on year. Week 39 was relatively weak for Texas, bizjet traffic down 5%.
For the month of September, bizjet activity in North America was down 3.6%, 19% up on September 2019. By OEM fleet, the biggest gains on 2019 are on Cirrus and Pilatus business jets, due to the vastly increased size of these active fleets. The Cessna business jet fleet is the largest active by far, with sectors up 21% compared to four years ago, down 4% on last year. Bombardier and Embraer bizjet fleets were both more active in September 2023 than any other year. That excludes the ailing activity of the Learjet fleet. Gulfstream jet sectors flow in September 2023 were 3.6% lower than in September 2022. Dassault Falcon jet activity was down 8% year on year.
Chart 3: OEM fleet activity in North America, September 2023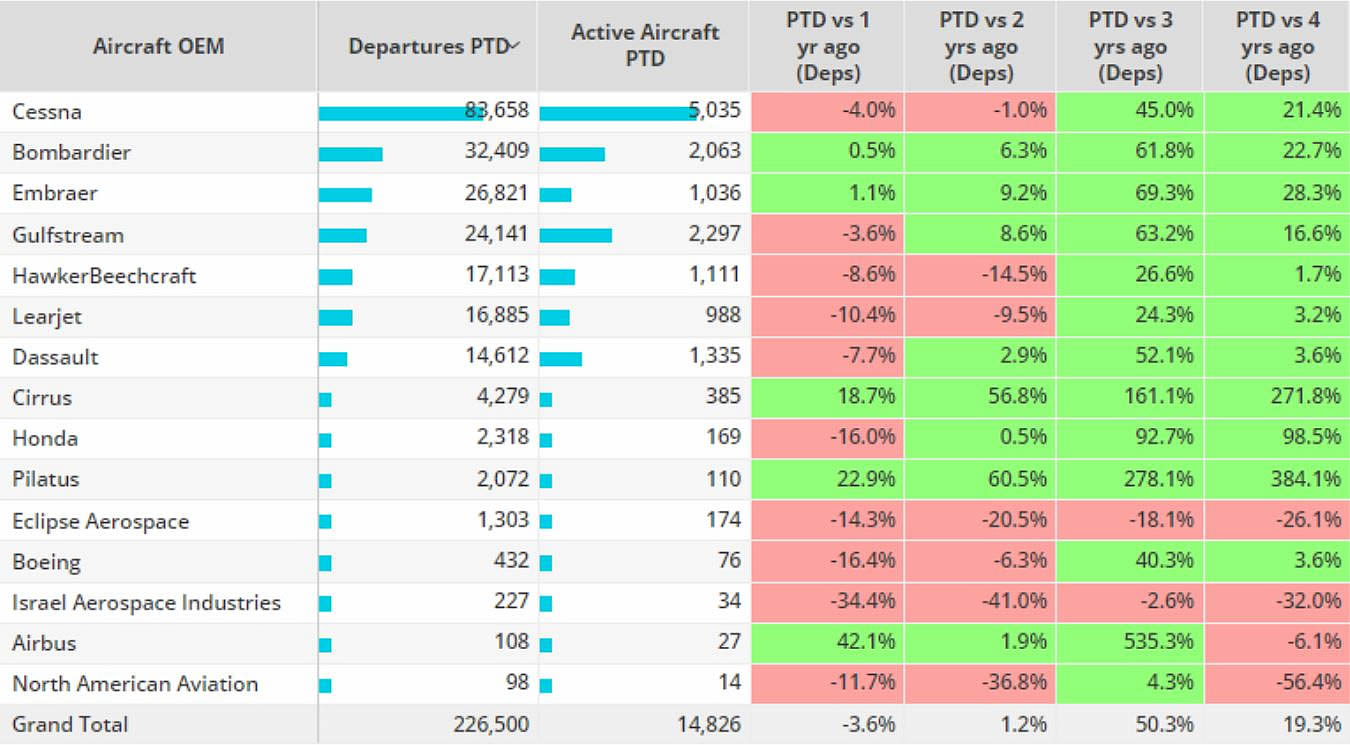 Asia
Business jet activity was up 13% in terms of sectors flown in September 2023 versus September 2022. The ultra-long-range jet segment was busiest, still growing 30% on last year. Recorded bizliner activity as down by 13% compared to last year. The relatively small fleet of Super Light jets active in Asia registered a 68% growth compared to last year.
Chart 4: Asia business jet aircraft segments September 2023

Middle East
Bizjet activity in the Middle East fell 5% off the highs of September 2022, although still 45% ahead of September 2019. Saudi Arabia and Oman are two outliers, both with activity trending higher than in any previous September. In the latest week, there were 1,472 bizjet take-offs from airports in the Middle East, up 14% compared to week 38, down 6% on the same dates last year, although charter aircraft flew 10% more year on year.