WINGX's weekly Business Aviation Bulletin.
Summary
Bizjet demand is realigning with levels in October 2022, which is when the post-lockdown surge tapered. European activity jumped up this week compared to last year, which may have been an anomaly based on the late summer sunshine. US flight activity in 2023 is cumulatively close to the same period in 2022, with fractional operators hitting new activity highs.
Global
Business jet and turboprop activity has started October 3% ahead of the first 8 days of October last year, 17% ahead of four years ago. For bizjets only, the year-on-year trend was 4% up on last year. Year to date (1st Jan – 8th Oct) bizjet flights are 4% below the same period last year, and are up 19% so far this year compared to same period 2019. Scheduled airline sectors are up 16% compared to the start of October last year, narrowing to 7% behind 2019. Dedicated cargo operators' activity so far this month is 9% down year-on-year, 10% behind 2019 levels.
Chart 1: Global fixed wing flights by sector, October 2023 (Note business aviation includes turboprops)

Europe
October has seen a relatively strong start for business jet activity in Europe, flight sectors 7% ahead of last year, 13% busier than 2019, although behind the highs of October 2021. The UK, France, Italy and Spain are all lifting market activity compared to last year. Germany, Netherlands, Czech Republic and Poland are weighing in the other direction. Germany and Austria are both seeing 13% declines compared to 4 years ago. Germany's decline is most acute in the domestic bizjet market, these sectors down 22% compared to 2019. International bizjet flights are seeing single figure declines compared to 2022 and 2019, accounting for two thirds of the market this month.
Chart 2: Business jet activity by country, Europe, October 1st to 8th 2023 vs previous years.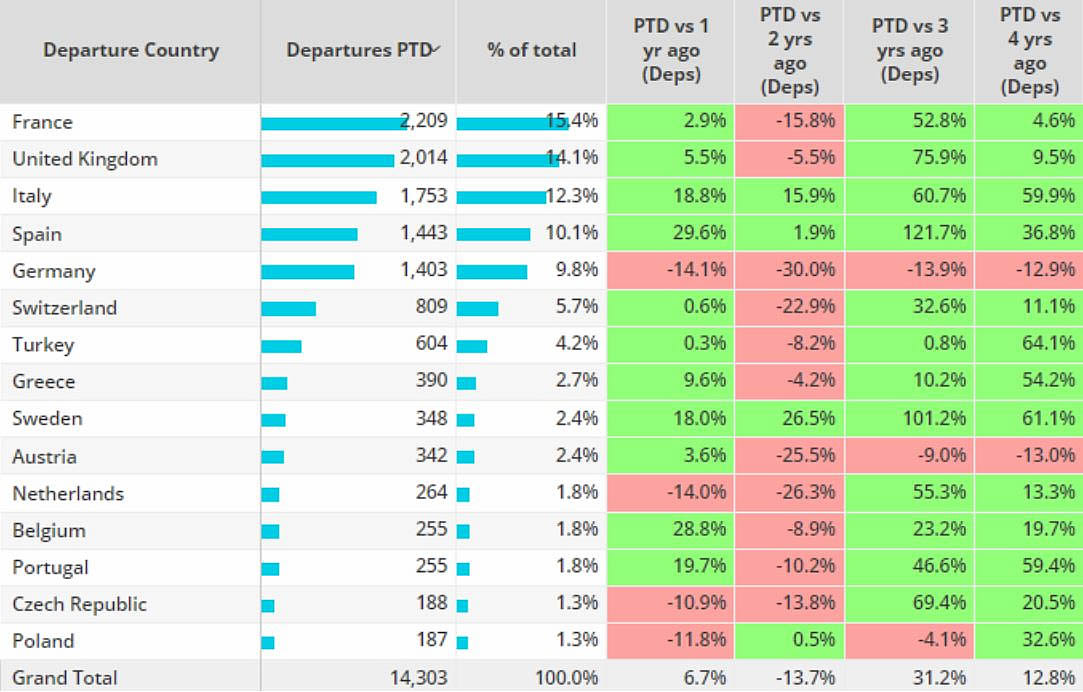 Chart 3: Germany domestic vs international bizjet sectors, October 1st to 8th 2023 vs previous years.

North America
In Week 40, ending October 8th, North American business jet activity was down 1% compared to the previous week and year-on-year seven days. There have been 2.1 million bizjet departures Year-to-Date, 5% fewer than comparable 2022. At the start of October activity is 3% ahead of October last year, 23% ahead of 2019. New Jersey stands out, with a 24% increase in bizjet flights compared to the same dates in 2022. In total there were 2,602 bizjet departures from New Jersey airports in the opening 8 days of October, Florida the busiest destination state, Boston the busiest metro destination outside of New York.
Chart 4: North America business jet departure by State, October 2023 vs previous years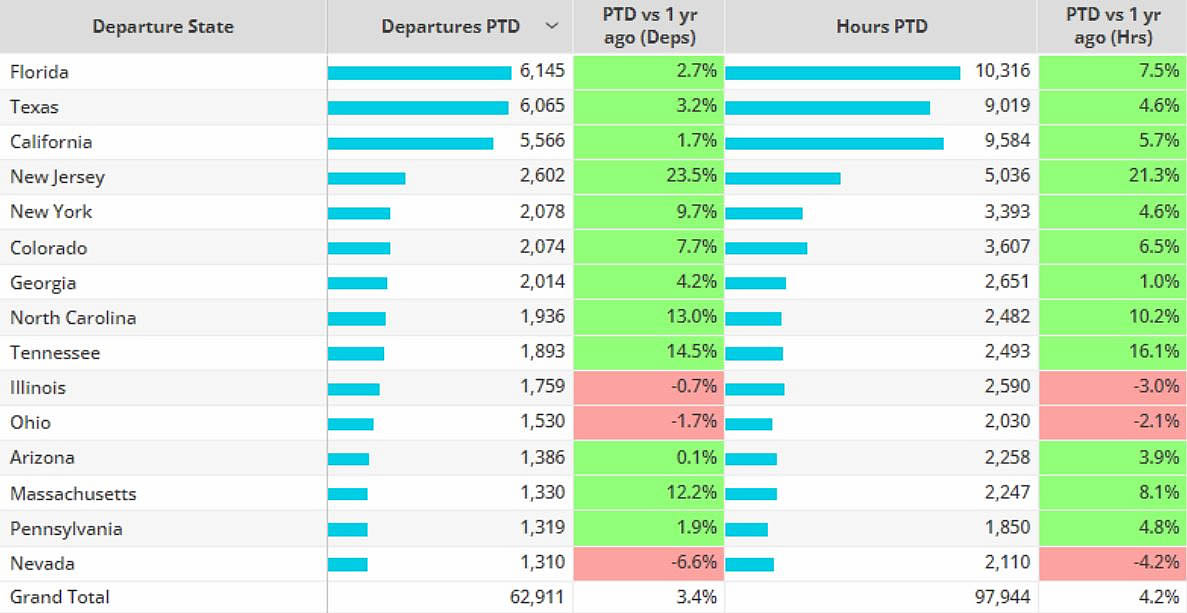 Corporate flight departments are the busiest operator type so far this month, but activity is down 6% compared to last year and trending under 2019 levels. Aircraft Management operators are flying 42% ahead of October 2019. Fractional fleets are hitting new highs, with 12,513 sectors so far this month beating the highs of the last few years. Teterboro is the busiest departure airport for Fractional bizjets, 26% ahead of last year. Las Vegas McCarran, Washington Dulles and Boston Logan International are also seeing double-digit fractional growth compared to last year.
Chart 5: North American business jet operator types, October 2023 vs previous years

Asia
Business jet activity was up 10% in terms of sectors flown in the first 8 days of October this year compared to last year. Bombardier, Gulfstream and Cessna fleets are flying more flights across the region than the start of any October in the last 4 years. Dassault and Embraer fleets are seeing a slower start to the month than in October last year, although well above comparable 2019. There are fewer Bizliner flights recorded this October than in October 2019.
Chart 6: Asia business jet aircraft OEMs, October 2023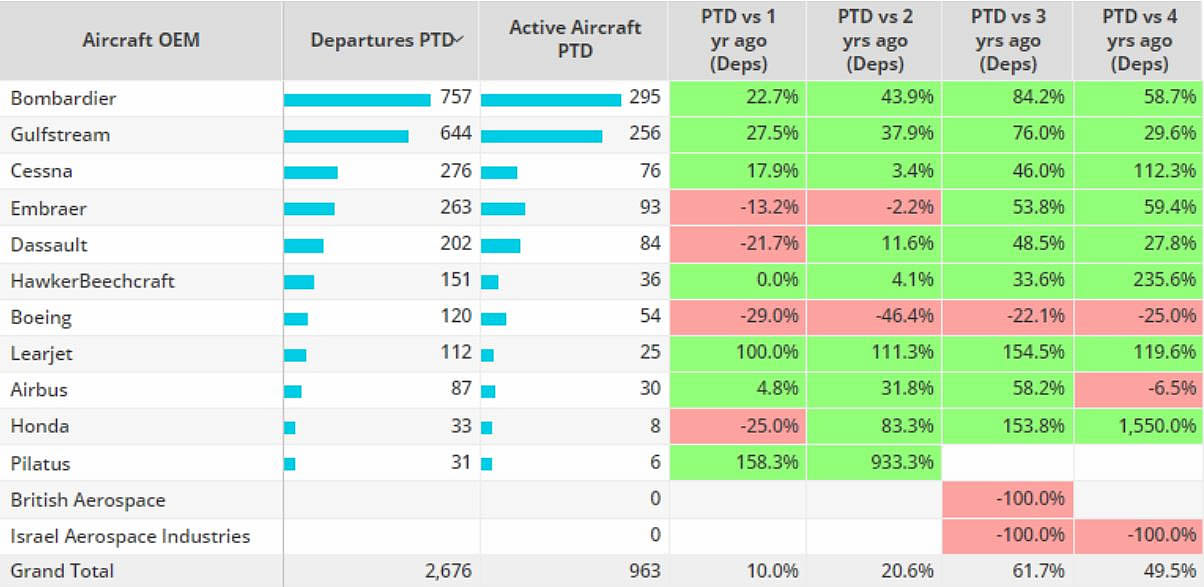 Middle East
Bizjet activity in the Middle East grew 12% compared to the first 8 days of October 2022, 64% ahead of 2019. Kuwait and Bahrain were exceptions, flight activity falling 19% and 42% respectively. Bizjet departures from airports in Israel are 18% ahead of October last year. Compared to October last year, private owner aircraft saw the largest spike in departures, 23 recorded departures, 155% more than last year. Ben Gurion International – Larnaca International the busiest bizjet airport pair in the opening 8 days of this month.