WINGX's weekly Business Aviation Bulletin.
Summary
Business jet activity now appears to have realigned with flight activity in 2022, suggesting that demand has now found an equilibrium after deflating in the last 12 months in comparison to the Covid-related surge. The buoyancy in Europe appears to be leisure-oriented. In the US, strong demand for ultra long range aircraft is evident. Geopolitical crisis in the Middle East could destabilise the industry in the next few months. In the shorter term, we would expect to see a short-term spike in charter flights in the region for humanitarian and logistics purposes.
Global
15 days into October, global business jet and turboprop activity is 1% up on of last year, 18% ahead of four years ago. For bizjets only, the year-on-year trend was up 2% compared to last October. Year to date (1st Jan – 15th Oct), bizjet flights are 4% below the same period last year, 19% ahead of the same period in 2019. Scheduled airline sectors are up 16% compared to October last year, narrowing to 7% behind 2019. Dedicated cargo operators' activity so far this month is 7% down year-on-year, 6% behind 2019 levels.
Chart 1: Global fixed wing flights by sector, October 2023 (Note business aviation includes turboprops)

Europe
Bizjet activity in Europe is 3% ahead of October last year, 13% ahead of 2019, although 14% behind the highs of October 2021. France, UK, Italy and Spain are all lifting market activity compared to last year. Germany, Switzerland, Austria and Sweden are weighing the market down. Bizjet activity in Italy is widespread, Milan Linate and Ciampino airports seeing 18% growth compared to October last year, Malpensa and Pisa seeing 27% and 29% growth. Olbia and Leonardo da Vinci–Fiumicino are hitting new highs with 105% and over 400% growth vs last October.
Chart 2: Business jet activity by country, Europe, October 1st to 15th 2023 vs previous years.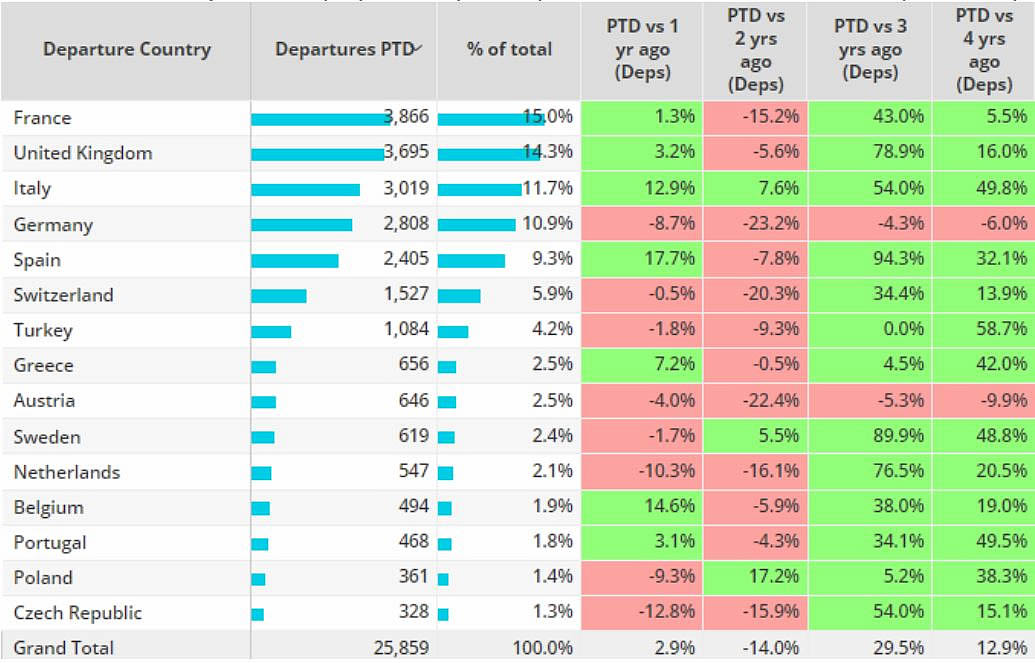 North America
In Week 41, ending October 15th, North American business jet activity was up 5% compared to the previous week but 2% below the same dates last year. Through the first half of the month, bizjet activity is 1% ahead of October last year, 22% ahead of 2019. 6,806 bizjet departures so far this month make New York is the busiest metro area, activity ahead of the regional trend compared to last year. Los Angeles and Chicago airports are seeing declines in bizjet departures and hours compared to last year, elsewhere strong gains compared to last year at Washington and Nashville airports.
Chart 3: North America business jet departures and hours by city, October 2023 vs 2022.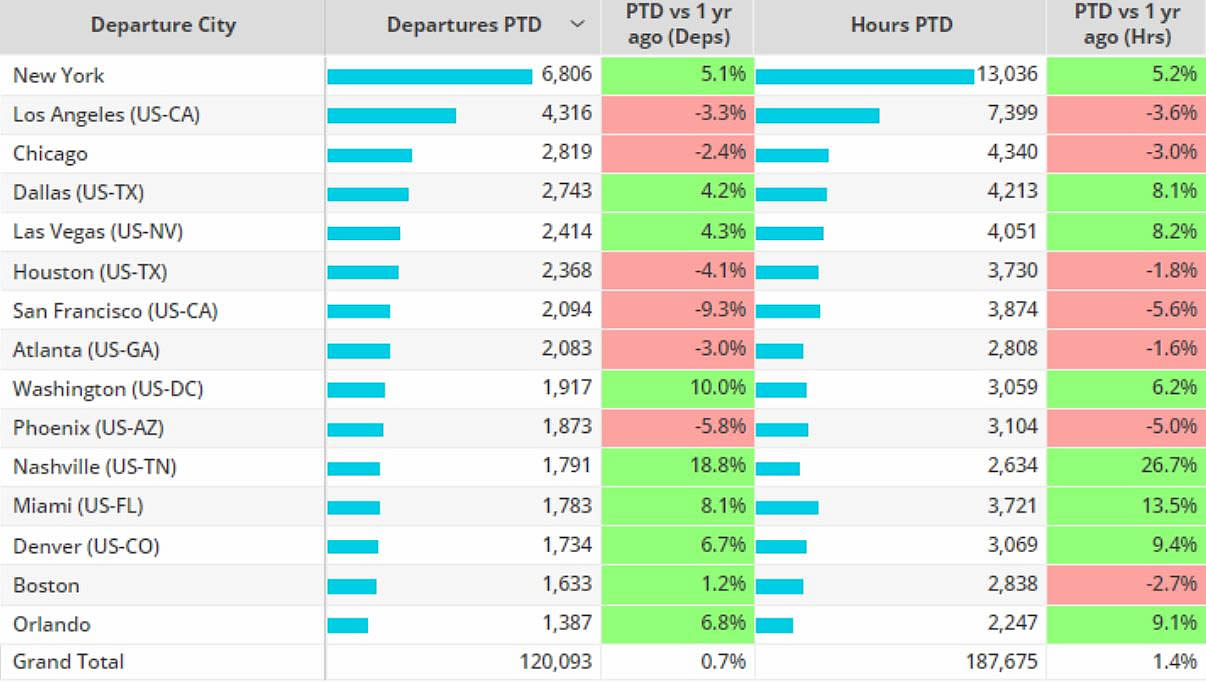 Light jets are the most active aircraft type this month, also flying the most sectors, though 2% behind last year, 17% ahead of 2019. Three segments are flying more so far this October than in any previous October, with Ultra-Long Range jet sectors up by 51% compared to 2019. Heavy Jets have flown 2% more this October than last year, though slightly behind comparable 2021.
Chart 4: North American business jet aircraft segments, October 2023 vs previous years.

Asia
Business jet activity was up 13% in terms of sectors flown in the first 15 days of October this year compared to last year. Demand is being driven by Ultra-Long-Range jets, these fleets flying 27% more than last October, 38% more than 4 years ago. Midsize jets are on par with the start of October last year, although well ahead of October 2019. Bizliners are flying fewer flights than the start of October 2022, 2021 and 2019.
Chart 5: Asia business jet aircraft segments, October 2023

Middle East
Bizjet activity in the Middle East continues to trend ahead of comparable October 2022, sectors were 7% ahead, 54% ahead of 2019. Bahrain and Kuwait are well down on last year, although both still ahead of 4 years ago. Qatar is seeing strong gains compared to the start of every October in the last 4 years, 243% growth vs October 2019. Business jet departures from Israel saw a notable spike on October 7th, sharply declining before returning towards the usual daily activity level for this month so far.
Chart 6: Business Jet departures from Israel, October 2023