WINGX's weekly Business Aviation Bulletin for 9th November, 2023
Overall
In recent weeks bizjet activity has tracked 2022 volumes but this week saw a big drop, particularly in Europe, where regional activity slipped behind 2019 trends for the first time this year. Other regional activity also stalled, notably in the Middle East as connections with Israel have declined abruptly.
Global
Five days into November 2023, global business jet and turboprop activity is 4% down on November last year, 8% down on the highs of November 2021, 22% ahead of November four years ago. Focusing on solely bizjets, 48,000 sectors have been flown globally at the start of November, 4% fewer than November last year, 23% more than November 2019. Scheduled airline activity is 15% ahead of last year, although 8% down on 2019. Dedicated cargo operators' activity has fallen 18% behind last year, although 17% ahead of 2019.
Chart 1: Global fixed wing flights by sector, November 1st – 5th 2023 (Note business aviation includes turboprops)

Europe
European business jet sectors at the start of this month are behind 2019 activity levels, sectors fell 19% compared to November 1st – 5th 2022, 4% behind comparable 2019. Several key bizjet airports in the region are seeing double digit declines compared to last year, namely Le Bourget, Farnborough and Geneva. Le Bourget, Luton and Biggin Hill are down compared to November 2019. Ataturk, Rome – Ciampino and Malaga buck the regional trend, all three ahead of last November and November 2019.
Activity across all aircraft segments in the region are behind last November, although light jets, the busiest segment are flying 4% more than 2019. Super Light and Super Midsize jets are also ahead of 2019, just 88 Bizliner flights so far this month, 39% fewer than 2019.
Chart 2: Business jet activity by airport, Europe, November 1st – 5th 2023 vs previous years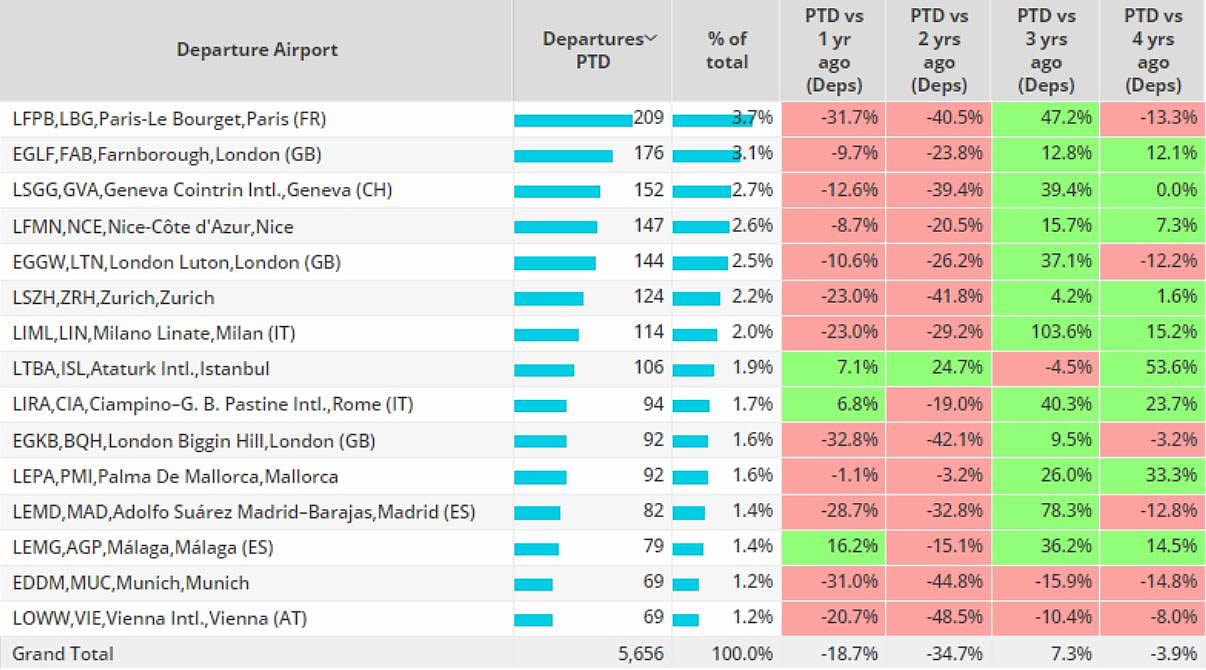 North America
In Week 44, ending November 5th, business jet activity originating in North America was down 6% compared to the previous week, 4% below the same dates last year. Bizjet activity in North America has also fallen compared to November 2022, although the declines are not as severe as in Europe. Almost 39,000 departures between 1st – 5th November, 3% fewer than the same dates in 2022, 24% more than 2019. Top airport Teterboro saw activity dip 7% behind last year, although 6% ahead of 2019.
Despite the regional downturn, Las Vegas airports are lifting market activity. Bizjet departures from Las Vegas airports are 25% ahead of comparable last year, the busiest metro connection is with Los Angeles airports, flights up 11% compared to last year. Bizjet demand from Las Vegas airports is coming from the growth in fractional operators. So far this month fractional operators from Las Vegas airports are flying 85% more than November 2022, triple digit growth compared to 2019.
Chart 3: North America business jet airports, 1st -5th November 2023 vs previous years.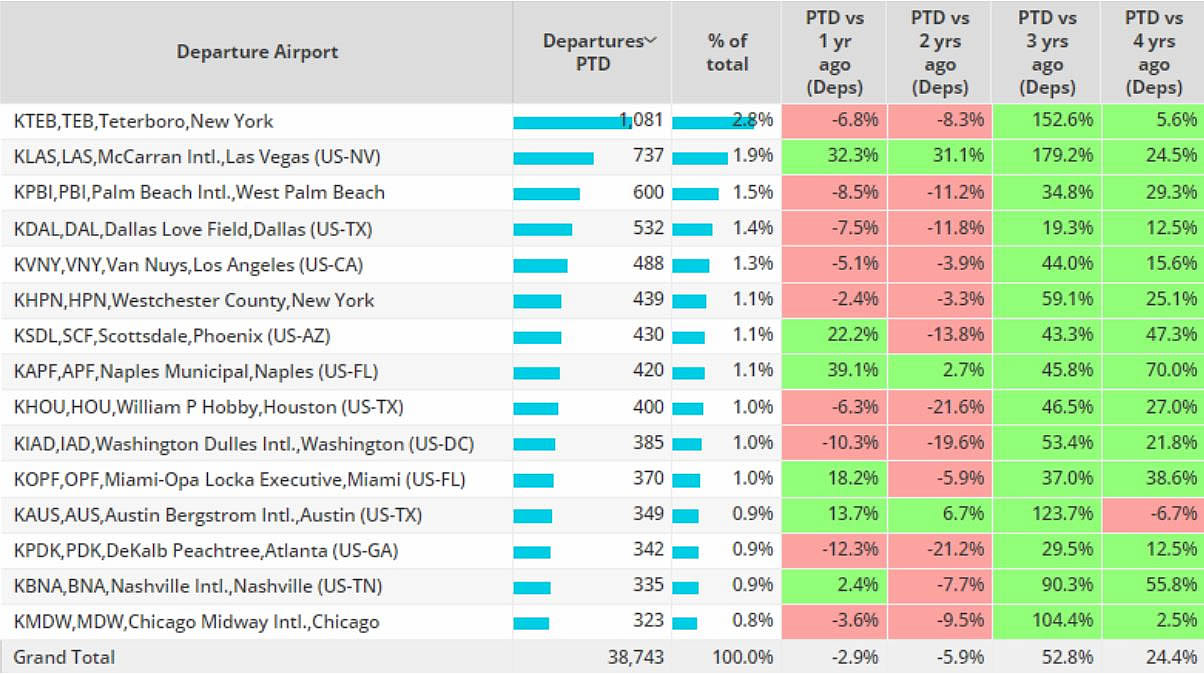 Chart 4: Las Vegas airports, business jet activity by operator types, 1st – 5th November 2023 vs previous years.

Asia
Business jet activity is up 6% in terms of sectors flown so far this month in Asia compared to last year. Japan and Indonesia are busier than the start of any November in the last four years. China well ahead of last year and 2019, down 22% compared to 2020. Hong Kong is 16% behind the start of November 2019, 65% ahead of 2022. Thailand and Singapore both on par with the start of November last year.
Middle East
930 bizjet flights departed airports in the Middle East 5 days into November, 7% fewer than comparable last year, 36% ahead of 2019. Saudi Arabia and Qatar are outliers, sectors 4% and 20% ahead of last year respectively. Contrast the United Arab Emirates, activity is 10% below last November, 48% ahead of November four years ago. Bizjet departures out of Israel are down 21% compared to November last year, 10% behind 2019.
Chart 5: Middle East business jet activity by country, 1st – 5th November 2023.